REGULAR CLASSES
Classes are designed focusing on providing effective learning.
ENGLISH AND MUSIC
Think about an extra course through which you will have the opportunity to develop your pronunciation skills.
CLUB TIME
Activities on Fridays involving all the students, pre-scheduled by the school.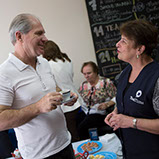 WELCOME PARTY
Every beginning of semester, on the first Friday.
BOOK CLUB
Monthly sessions focusing on reading and understanding a pre-selected book.
SITUACTION
An extra activity that provides the students with the opportunity of experiencing a practical real-life situation in English.